Natural pet.health
About US
Our passion is Helping Your Pet Live Longer.                      Learn more here.
Here's what HOLISTIC VETERINARY CONSULTATIONS should mean to you– a thorough history, a guide to the right tests and treatment, and a written case assessment.  At NaturalPet.Health, it's what we do.
If you are passionate about your pet's health, our eight week course will enable you to both understand and make the best decisions possible for their best life.
Stop guessing what supplement your pet needs for optimal health.  We don't sell much, but what we DO sell has been proven in for decades in hundreds of loved pets– just like yours.
Call NaturalPet.Health Now at 800.405.7387
Passionate about your pet's health?  You're in the right place.
Natural Pet.Health
When your pet is sick, hurt, or dealing with a chronic disease, they need all the help they can get.  But decades of knowledge in holistic veterinary medicine are tough to come by.  That's why we at NaturalPet.Health are here for you.
of pet owners are interested in natural medicine.
of pet owners say they have found the knowledge and care they want.
About us
Hello!!  Dr. Kevin here.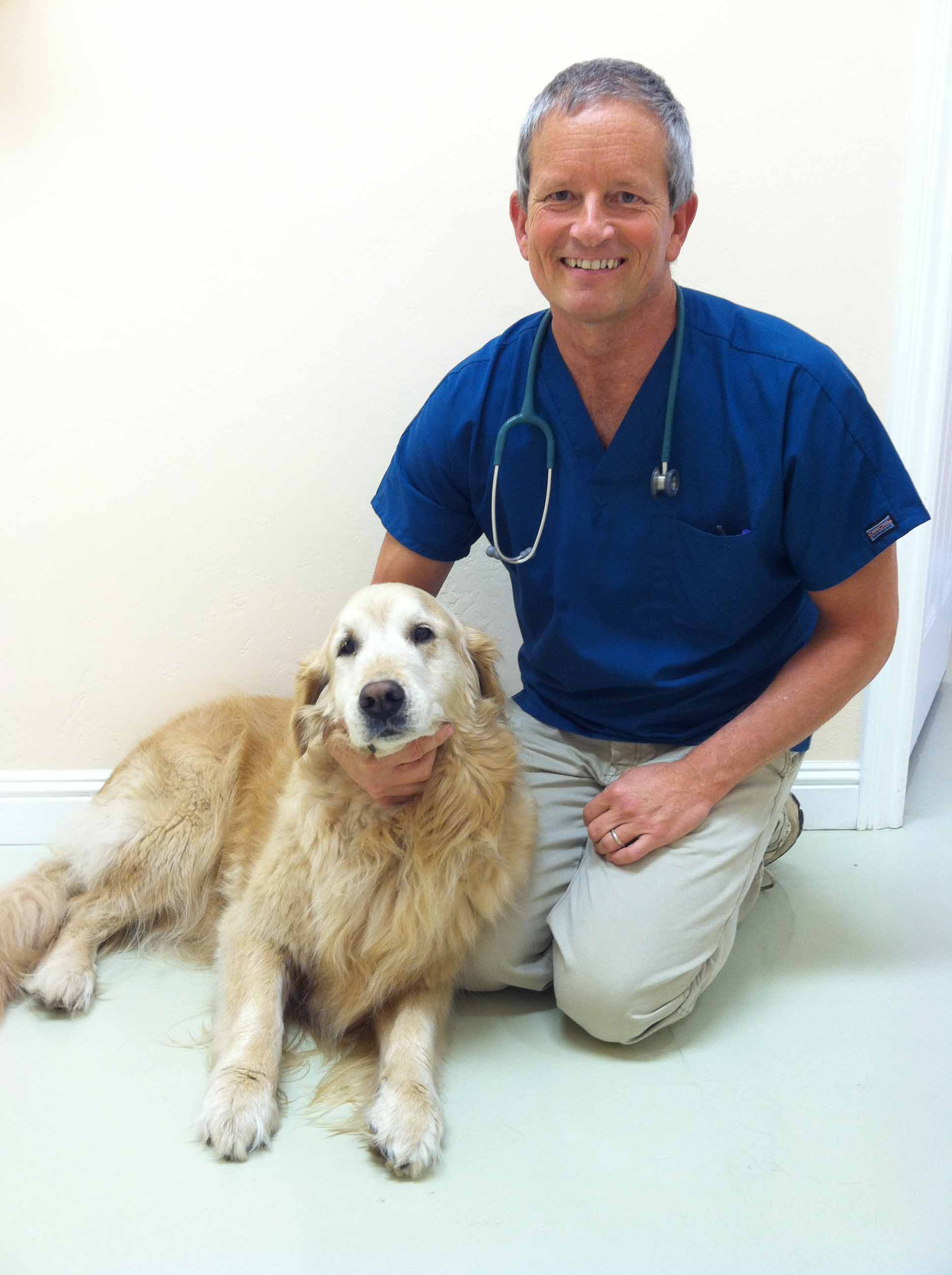 Dr. Kevin
Brook's Dad.
Hey, photographs always lie.  In reality I look more like Brad Pitt but this is my stage persona.  The belle of the ball is my spoiled 12 year old Golden Retriever, Brook.
I graduated from veterinary school at UC Davis back in the dark ages of 1986.  Since that time I have lived throughout the western US — basically wherever there are trout or waves — and we currently live in Cayucos, CA.
In my spare time I've been known to fish, garden, and sweat a little in Tabata workouts.
I pride myself on being a fixer and a teacher, and I'd love to partner with you in the holistic health care of your pet.
A Few Testimonials For You.  We work very hard at what we do...
Kevin was recommended to us by my best friend, and when our kitty was sick, we decided to go to him. It was the best decision we made for our cat, Twisp.
He is a great vet, and was very gentle with her. He was also able to take care of a worm problem she had, and was able to recommend a diet for a skin allergy she had. The diet was the perfect recommendation, and since her visit, she has been a all around, happier cat.
I will always take her, and any pets i have in the future, to Kevin.
Kevin's incredible warmth and caring manner, and.... here's where their service is really different: they prepared a folder with printouts of her lab results, along with explanations of the lab results, Kevin's detailed letter summarizing the exam, the tests, the diagnosis, the treatment, detailed instructions for administering the meds and instructions for feeding her to help her back to normal foods, even a CD showing her x-rays.
Kudos to Kevin and everyone on the staff.  Thank you for saving my furry best friend!
For the best veterinary care around, Kevin's hospital is the place to go. They specialize in not only Western medicine but Eastern philosophy which offers your pet The Best of Both Worlds. They have seen my pets through diabetes , broken legs, and many other problems always offering the best service and competent care. They are always professional , caring and take good care of your pet and you. The only Veterinary practice that I will use. –
THIS IS THE REASON FOR FIVE STARS. Let me say, Kevin is the first vet I have been to that listened to all of my concerns, questions, needs, and thoughts and didn't rush me along. He took time to get to know the animal they were working with. When he did give me the "diagnosis" their first response was not to give my cat meds, but to try other homeopathic options first. I love that!!
I'd Love To Chat With you…
NATURAL PEt.health
Kevin Toman, DVM
800.405.7387
ktomandvm@gmail.com
We are sorry that this post was not useful for you!
Let us improve this post!
Tell us how we can improve this post?